The modern alternative to traditional stained glass, transforming plain glass into a decorative, stunningly beautiful piece of contemporary glass art, as you will see throughout this site. This versatile technique is to use one sheet of glass with coloured, sometimes textured, adhesive overlay film, laid over the glass with leaded outlines.  Browse through the Gallery pages to see the beauty and creative artistry of Viv's glass. If you wish to buy or commission a piece then please go to the 'Contact Us' page. Please note that prices quoted DO NOT include delivery costs.
Stained glass, wood & acrylic art: • T-lights • Framed stained glass • Glass panels on wooden plinths • Circular stained glass • Stained glass doors & windows • Shaped acrylic panels •  Ranges of Seaside & Nature stained glass
Natural lead is used in most of these pieces, which means that it has no coating & will oxidise over time, to give the darkened weathered look of traditional old leaded windows.

Wonderful sculptural pieces of glass set into interestingly shaped wood or onto it – every piece is totally unique. Visit the 'Glass and Wood' page – more designs coming.
Glass art of all sizes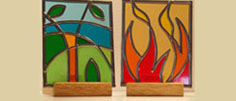 From small tree decorations & tea-lights to medium sized free-standing & large wall-mounted glass panels & pictures.
Learn More

»
New Commissions

Have a look at the latest commissions and the variety of designs based on our clients' wishes!
Take a look

»
Door & window panels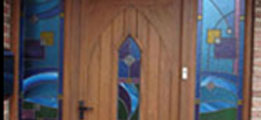 From doors & windows to sidelights & skylights - in glass or acrylic.
Learn More

»
© Copyright 2022 Viv Wilkins Glassart