Commissions
---
Here are a selection of stained glass or acrylic art pieces that I have been lucky enough to have created specifically for clients – keep checking the website for updates as I am constantly working on others at the moment.
' Lin's Fish Panel' – 2017

Lin wanted a large aquarium style piece of acrylic to take back to Australia with her, along with 2 other large panels I had produced for her a couple of years earlier, to fit into a room divider wall, she was having made. The design process was quite long deciding which fish to put in & then getting the colours to match other art she had etc. We had to make a temporary frame for it also to make it easier to move around. It took a few months from design to completion and was quite difficult to work on because of the size, but she & I am very pleased with it. What you can't see from the photograph is the use of great textured film on the fish, the coral & parts of the water, so here is an example of them below.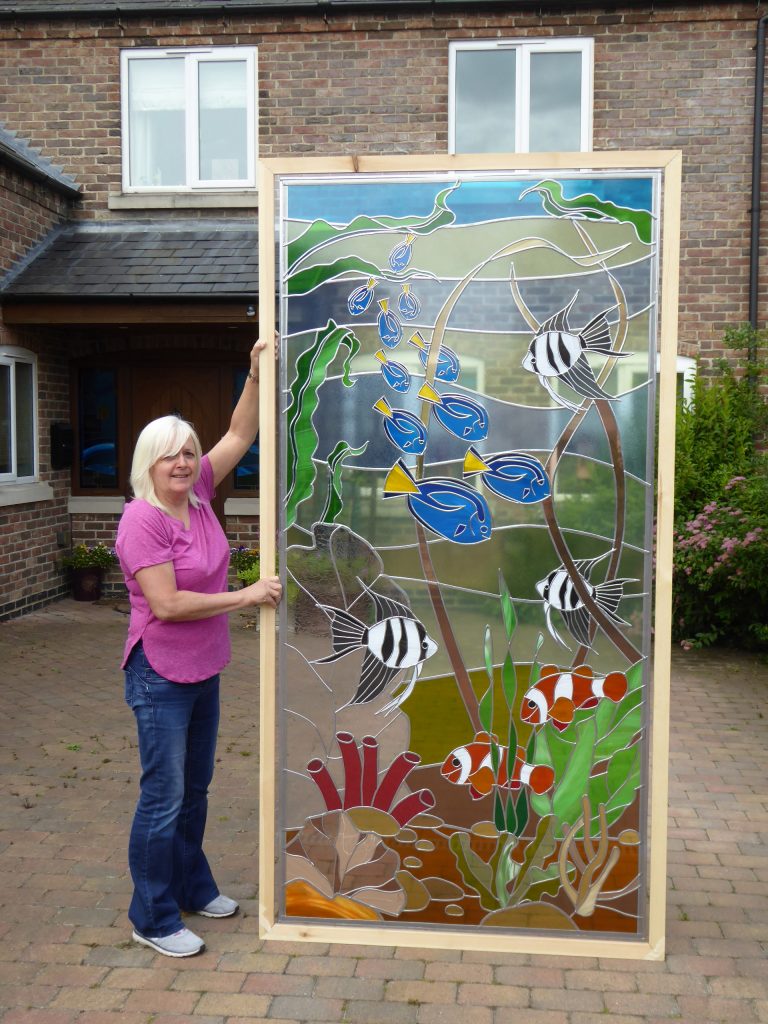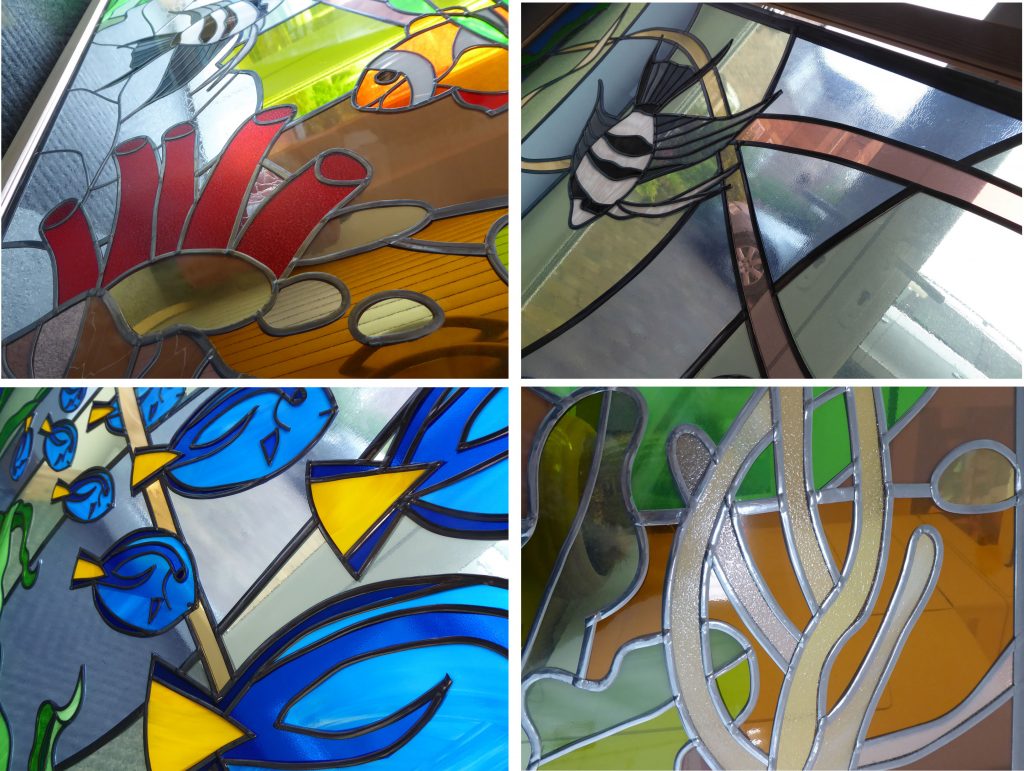 ______________________________________________________________________________

"Red Waves" – 2011 – Film & lead on shaped acrylic with burnished copper.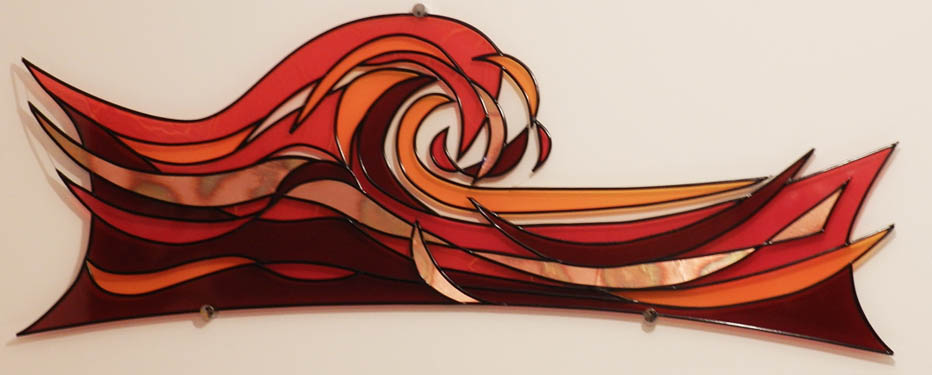 The client wanted a dynamically shaped piece of art that looked modern & colourful and she loved waves and the sea. I chose the oranges, reds & burnished copper instead of the traditional blues of the sea, to go with the black lead & this gave the piece a very different feel. The client is so pleased with it she has chosen these colours for her furniture in the same room .
The acrylic is 5mm thick, 1.2 metres wide & 500mm high. Wall mounted with 3 stand-offs.
______________________________________________________________________________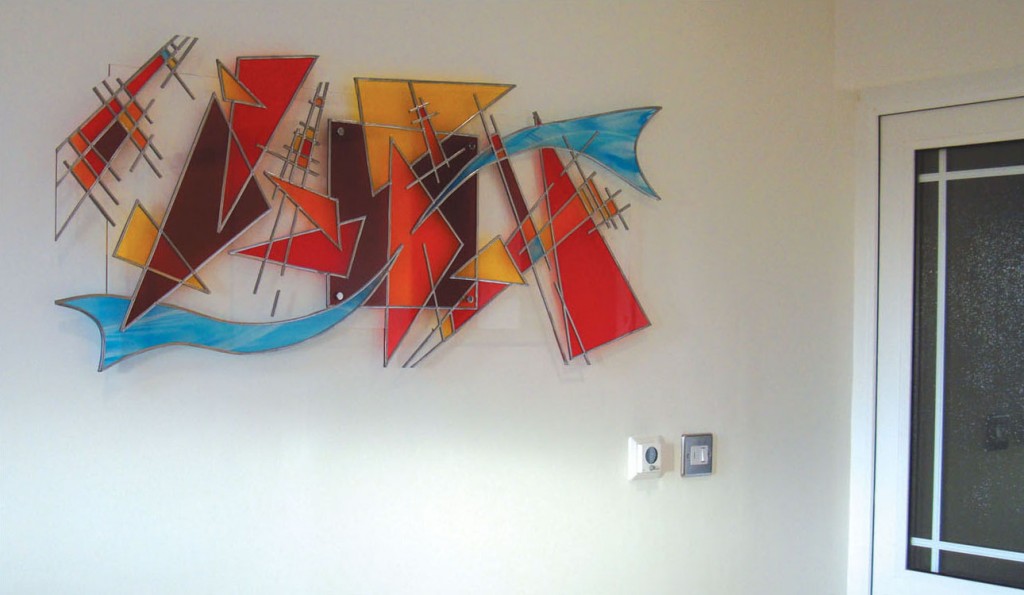 "Calming Influence" – 2010 – Film & lead on shaped acrylic, wall mounted with 1 hook on backing board. 1.2m wide x 500mm high.

This design was commissioned to add interest to a blank wall on a newly refurbished kitchen, following the hints of red used throughout the room. The client had seen a smaller piece of mine, made up of the intersecting triangular shapes, but wanted a design that flowed but also had some contradictions in it – hence the hard straight lines and soft shapes. Using shaped acrylic, mounted in this way makes you really look closely at the piece, seemingly floating just off the wall.

______________________________________________________________________________
Carol loved a similar piece of mine called 'Joy' and wanted a large window in the same style. After coming up with the initial design, Carol came & had her input into making slight design and colour changes and viewed the films I intended to use. Once they were chosen, I started work. A couple of weeks later I showed Carol the first side in case we need to alter any of the intensity of colours and with that decided, I finished the work and took it a week later to install. They are extremely happy with it and Carol loves the way the colours change depending on the light and time of day and says she never tires of looking at it.
______________________________________________________________________________
Steve's Swimming Pool Panels – 2014

These 4 seaside panels were commissions for Steve in Richmond for 4 recesses in his swimming pool room. I did a small sample on my favourite 'Sparkle' glass, which he loved and then proceeded to work on the designs which were variations & additions to a couple of the long Seaside Range designs. Here are the pics he has sent me of them in situ.
______________________________________________________________________________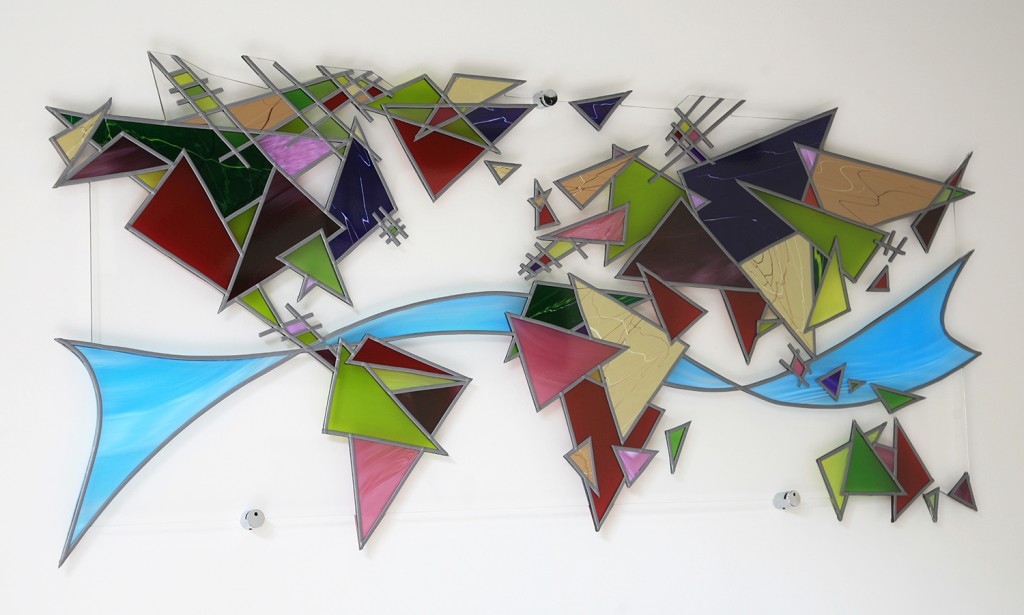 Vals 'Map of the World in triangles' – 2015

A friend wanted a piece of art which was personal to her & her partner but didn't know what, so it was up to me to suggest something. After much thought I know how they loved travelling & came up with this map of the world in triangles with a softer wavy equator. This piece is 1500 wide x 500 high on shaped acrylic & looks absolutely stunning in their newly refurbished lounge, complementing their colour scheme.
'Tawny Owl Window' – 2016

The lady commissioning this piece wanted to 'hide' the panels in the window so I had to design the piece with the grid in mind. Here it is before & after I delivered it – note the use of semi-opaque film – this obscures the grid & also gives the panel interest from the inside when it is dark outside and no light shining through the piece.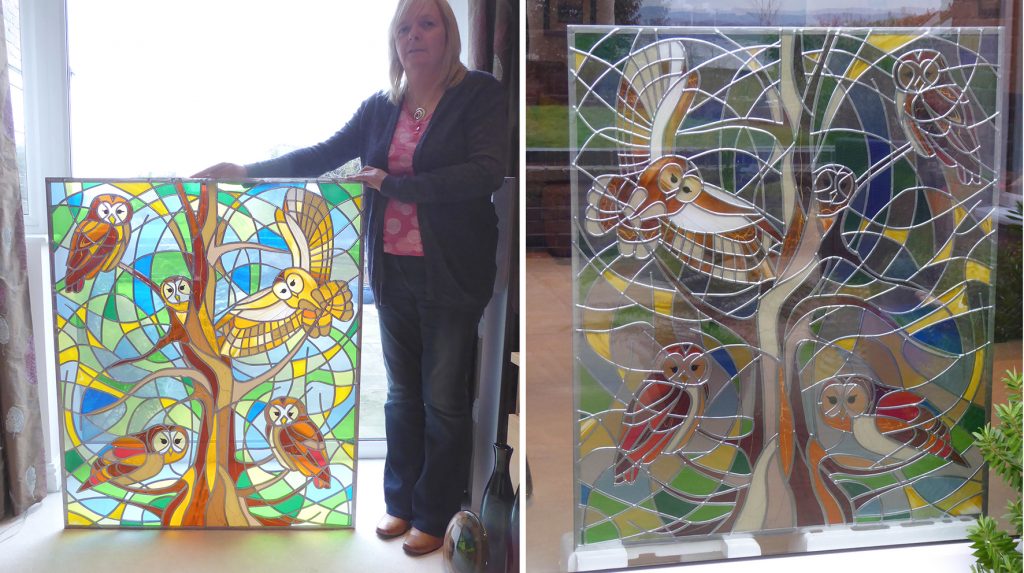 ' 4 panels linked' 2016

A lovely couple asked me to produce 4 panels for their conservatory: a seaside scene, mining scene, Jesus as a shepherd & an Oasthouse scene, (which were all very personal to them) so after several drawings & tweaks I made these. The seaside one on the left and the others follow to the right, all in a long line with the sky & some of the backgrounds going over two panels for continuity. I haven't taken a pic of it in situ but will post it as soon as possible.