About
---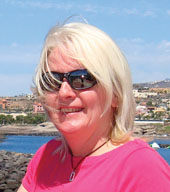 Although Viv Wilkins has been successfully designing and jointly running Initial Design Consultancy in Selston, Nottingham for many years she still felt that she needed to be even more creative. She is an accomplished painter but decided to concentrate on stained glass, which she had dabbled in by designing her own front door and window panels about six years earlier.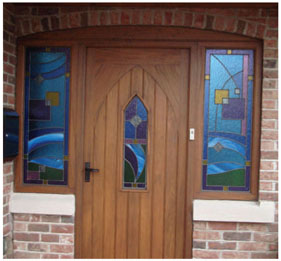 Her designs range from the traditional, to her interpretation of recognised artists or art movements, such as Mackintosh and Art Deco, to very abstract or geometric themes.
Using mainly recycled glass, or for certain jobs acrylic, this is then covered with coloured film and adhesive lead strips and occasionally complementary materials. Using acrylic enables Viv to have complex shapes that are very difficult to produce in glass.
Viv often sketches her designs first, then draws them on computer where it easy to change design and colour and give several options. Often the client is invited to be a part of this process if they are unsure of what they want.
After starting with a few small pieces, Viv now produces door and window panels as well as clocks, tea-lights, Christmas tree decorations, free standing panels & pictures. These can be wall-mounted or standing on acrylic or solid wooden plinths.
She is exhibiting her work in several local galleries (check out the Events Calendar for up-coming events) and is amazed at the success she has had in such a short space of time.
Vivwilkins-glassart is a must for gifts, suitable for all occasions and for your own personal piece of art.

"I am passionate about all forms of art and love nature and to be able to combine these in a modern art form is fantastic and very satisfying. Inspired by the flowing forms in nature that surrounds us and the beautiful stained glass windows in churches & cathedrals, I wanted to create something that could reflect this historic and much-loved art form but give it a modern twist.
Working mainly with glass, acrylic, coloured film, lead and occasionally complementary materials, enables me to depict scenes from nature in an abstract, fun or semi-realistic way.
Light, colour, movement and form are the 4 elements that are essential to make each piece come alive and although the themes aren't necessarily spiritual, to see the reflected colours spill into a sunlit room is certainly uplifting – I hope anyone viewing my work feels the same."