New Commissions
---
Here are some recent commissions from 2019 to the present day.
' Tree of Life' – Nov 2019

Dave & Diana requested a 'Tree of Life' design mounted on wood to stand in front of an internal window in their house, to fit between some existing items. The glass was 17 inches wide x 23.5 inches high which caused my wood guy & I to come up with a new way of supporting the tall glass on a wooden plinth. I sourced an absolutely beautiful piece of Elm burr and my wood guy Pat took off a slice, sanded & oiled it, routered out a groove for the glass to sit in and then inserted elm wooden dowling as the side supports, which we glued in place.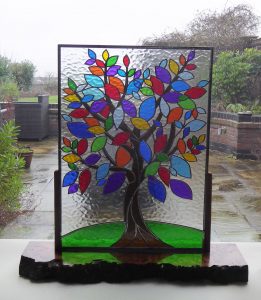 ' Flying Barn Owl' – 450mm diam. Circular stained glass for hanging – Feb 2020

Vivien & Roland had seen my 'Flying Barn Owl' mounted on a wooden Oak Burr but wanted something a little different to hang in front of a window but not obscure any of the light.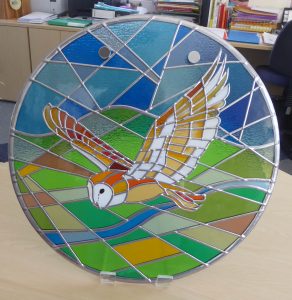 ' Family Design' – Door panel, 600mm w x 800mm h – Mar 2020

Liz sent me a rough drawing of what she wanted and a list of items that hopefully could be included: – the initials of the 4 family members, a raven on a stone, 4 stones in the river, an 'H' shaped bridge, a rabbit, an orienteering kite & their house number – see if you can spot them all!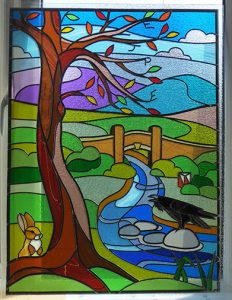 'St. Mary's Lighthouse' – Door panel, 500mm h x 800mm w – April 2020

Deborah wanted a scene showing her family rock pooling at St. Mary's Island in the North East. She provided several pictures for me to work from of her family.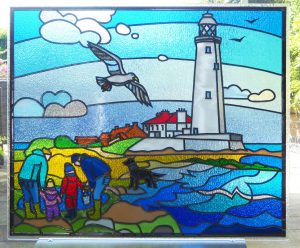 'The Farne Islands' – Above Door window, 277mm h x 786mm w – June 2020

John & Jeanette commissioned a panel to go above their new front door in Seahouses, featuring the Farne Islands.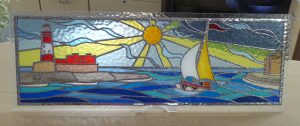 'Siobhan's Glass' – Internal panel, 1100mm h x 760mm w – Sept 2020

Siobhan wanted to show a Wyvern and a Bear (from family crests), with a pastoral scene behind reflecting the view from her newly refurbished house – including her favourite breed of sheep, resting under cherry trees and hares running across the fields.