Display
---
How your glass can be displayed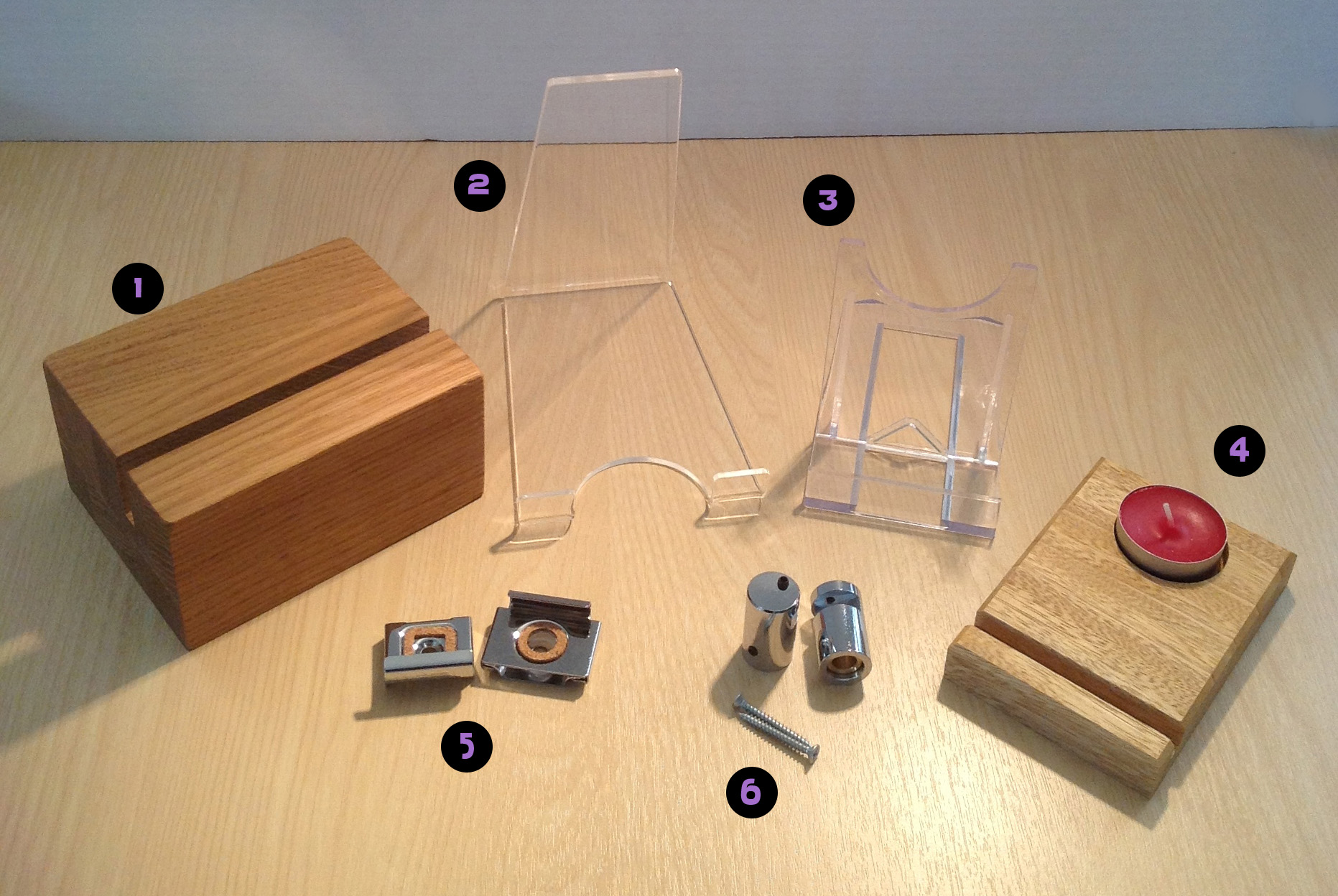 Your glass can be displayed in a variety of ways. Pictured above are some of the more frequent ways:
Wooden plinth with groove to 'house' glass – sometimes the glass is glued in but most of the time it is sitting in the groove. The plinth size will vary according to the size & shape of glass.
Acrylic stand for medium to large pieces.
Acrylic stand for small pieces.
Wooden plinth for t-lights with indented housing for the t-light candle & groove for the glass.
Mirror fixings – these are supplied & best used only with the mirror, as they would show through the other stained glass pieces.
Stand-offs – stainless steel with groove to house glass – these are screwed into the wall and a very small allen key is needed to tighten the stand-off to the glass. If you do not have one, they can be purchased easily at your local D.I.Y. store. Take the stand-off with you to get the correct size. Do not tighten too far or the glass will shatter.
There are various other ways of showing the glass:
Framing is suitable for most sizes of glass – if you prefer this then just ask.
Wire Hanging systems – can be used especially for larger pieces.
Door & window panels – these can be the usual double glazed units, or acrylic is often used to fasten to the frame of your existing window or door, so that it can be removed if you move premises – but these options would be discussed at the time of commission.
GLASS
Most of the glass used is 4mm or 5mm thick and is safety glass and can be patterned or plain. I try to use recycled as much as possible and therefore some patterns will be one-offs as they may be out of commission now. By its very nature the glass will have some sharp edges, so please handle with care.
ACRYLIC
Most of the acrylic used is 5mm but many different thicknesses exist and it is lighter than glass – so, if you prefer something thicker than 5mm this can be discussed. It is more expensive than glass but is more versatile for shaped designs.
LEAD
At the moment the two leads I use are 'natural' – which has a silver colour but will get darker over time and 'black', as I feel these are the closest to traditional stained glass leads. There are others and these can be shown & discussed at the time of commission, if you prefer something a little different. The lead can be in different thicknesses from 3.5mm – 15mm wide.
Lead is extremely toxic when ingested, so please wash your hands if you have prolonged contact with the piece and do not leave any pieces in the reach of small children.
All the glass should need is a light dusting with an e-cloth (normal dusters will leave fibres). Do not 'wash' with washing up liquid or put in the dishwasher.
© Copyright 2022 Viv Wilkins Glassart